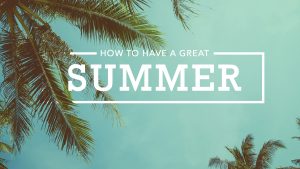 The summer months are a time for families to enjoy each other, rest, and disengage from routine. For churches, however, summer can either be refreshing or a bit discouraging. Typically church attendance drops by 23% as church members go on vacations, missions' trips, etc. However, the "summer slump" does not have to take place in your ministry this year. Here are seven ways to refocus your efforts and have a great summer in 2017.
Stay focused on souls.
Remain faithful in the area of soulwinning during the summer months. Proverbs 11:30 says, "The fruit of the righteous is a tree of life; and he that winneth souls is wise." The sun is out longer. The weather is nice. This is the perfect opportunity to fellowship with a church member as you go soulwinning together. As you go out, pray that you might see fruit in salvations. God will bless you as you fulfill His Great Commission.
Develop people.
Continue to purposefully develop those newer Christians in your ministry. Encourage them to enroll in Discipleship. It will teach them more about our Christian beliefs and challenge growth in their lives.
Also, be creative and involve the newer members of your ministry. You might invite them to attend a conference like Spiritual Leadership Conference, or serve in a summer ministry like Vacation Bible School, or ask them to help with a weekly task in your ministry. Everyone has something that they can do! 2 Timothy 2:2 says, "And the things that thou hast heard of me among many witnesses, the same commit thou to faithful men, who shall be able to teach others also."
Minister to people.
Take time this summer to connect with individuals in your ministry. The summer months are ideal for memory making! Have people over; plan activities. Make it a priority to schedule quality time with those to whom you are ministering.
Don't forget people in your ministry will still have trials and hardships throughout the summer months even when we are away on vacation. Watch for those who miss a lot. This can be a warning sign that something might be taking place in their lives. Take time to write them notes of encouragement and stay alert to their spiritual well being.
Be efficient.
Ephesians 5:15-16 says, "See then that ye walk circumspectly, not as fools, but as wise, Redeeming the time, because the days are evil." Step back and take a look at your ministry and evaluate your year so far. If there are problems, make adjustments where needed. Be sure to avoid complexity in your ministry.
Sometimes we can get so much going that we are no longer focusing on our mission. We can create a lot of activity but we must ask if our busyness is producing results. Complexity leads to being random, vague, and inefficient.
We must limit what we are doing to that which pushes the vision forward.
Prepare for the fall season.
You need to take time to set goals for your ministry. Proverbs 24:27 says, "Prepare thy work without, and make it fit for thyself in the field; and afterwards build thine house." Setting goals for the fall will allow you to make adjustments where needed and develop a next step for everyone in your ministry.
Consider hosting a fall kick off event at the end of the summer with your ministry leaders where you unveil your plan for the fall season of ministry.
Grow
Grow personally this summer in your walk with God. Schedule to spend more time investing in your growth so that you're overflowing with the love of God and the knowledge of His Word. Your growth will be contagious to those around you. First Peter 2:1-3 says, "Wherefore laying aside all malice, and all guile, and hypocrisies, and envies, and all evil speakings, As newborn babes, desire the sincere milk of the word, that ye may grow thereby: If so be ye have tasted that the Lord is gracious."
Rest
Rest. Rest. Rest. We need to take care of ourselves, disengage completely (I know this can be hard J), and find ways we can refresh and restore our physical bodies, our families, and our souls. When we take the time to renew ourselves, we can realign our lives for the upcoming months. Do not burn out, because you did not take the time to take care of yourself.
Matthew 11:28-30 says, "Come unto me, all ye that labour and are heavy laden, and I will give you rest. Take my yoke upon you, and learn of me; for I am meek and lowly in heart: and ye shall find rest unto your souls. For my yoke is easy, and my burden is light."